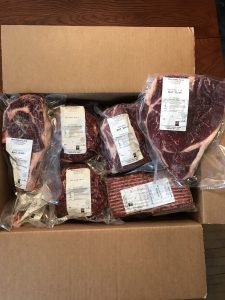 Are you looking for high quality beef but do not have room to store half or an entire beef? Do not count yourself out! Marchaland Farms offers all natural boxed beef. Our boxed configurations are perfect for consumers that are short on storage space, and desire safe, healthy, high quality beef. These packages only take up about 1 cubic foot of freezer space easily fitting inside most household refrigerater-freezers and we try to keep these boxes stocked and ready for purchase year round.
25lb Mixed Beef Box: (similar proportions as if buying a 16th of a cow)
Our mixed beef boxes consist of approximately 9-10 pounds of ground beef, 4-6 pounds of roasts, 6.5-7.5 pounds of steaks, 1-2 pounds of stew beef, short ribs or a soup shank can be substituted. Brisket or marrow bones may also be substituted into the box by request. The stew beef, short ribs or soup shank may be switched for ground beef if desired.
25lb Ground Beef Box: (packaged as separate, vacuum sealed, one pound packages)
Our ground beef box contains 25 one pound packages of our premium ground beef.
10lb Steak Box: (steaks are individually packed unless noted)
Our ten pound steak box will generally include 3-4 new york strip steaks,2-3 tenderloin steak packs (some are 2 per pack), 3-4 ribeye steaks, and 2-3 boneless sirloin steaks.
10lb Steak Box +10lbs Ground Beef:
These boxes will have the same configuration as our 10 pound steak boxes with the addition of 10 one pound packages of ground beef.
5lb Steak Box + 5lbs Ground Beef:
These boxes will generally include 1-2 new york strip steaks, 1-2 packs of tenderloin steaks, 1-2 ribeye steaks, and 1-2 boneless sirloin steaks and 5 one pound packages of ground beef.
New!
Smoker Boxes
Small Smoker Box:~$125.00 (price will vary slightly with size of brisket and roast)
1/2 a brisket (generally 4-6lbs), 1 Beef roast Chuck, Top Round, or Sirloin tip (generally around 4lbs), 2 packages of short ribs(generally around 6 pounds total), and 3 pounds of ground beef (perfect for smoked meatloaf).
Deluxe Smoker Box: ~$245.00 (price will vary slightly with size of brisket and roasts)
1 full brisket ( generally around 10lbs), 2 Beef Roasts (choice of Chuck, Top round, or Sirloin Tip (totals around 8lbs), 4 packs of short ribs (total around 12lbs) and 5 pounds of ground beef.
Buying in bulk with our boxed options allows you to save money as compared to if you were to build your own box with the same configurations found in our mixed boxes.
If you are looking for additional savings consider buying our beef by the quarter or half.
We personally pack each box and ensure that you will always receive atleast 25 lbs of beef. The box weights will vary slightly due to variation in package sizes.  The weight of the box is determined by the weights recorded on each package in the box that were weighed on a certified scale. All boxed beef is processed at a USDA certified processor.
Does this sound like too much beef to you or would you like to add more steaks or roasts to your box? Consider adding to your boxed purchase by looking at our build your own box option or simply build your own box to fill your freezer with exactly what you would like.
Our refer a friend program will also apply to our boxed beef customers.
How this works:
Refer a friend to us and if they are a NEW CUSTOMER TO US that buys beef, we will give you $0.50/lb off your next boxed purchase. For boxed beef there is no limit to the referrals that you may acquire! This can translate to great savings for you.
The savings are applied to one box.

Ground Beef Box: $170.00
Mixed Beef Box: $215.00
10lb Steak Box: $152.00
10lb Steak Box + 10lbs Ground Beef: $220.00
5lb Steak Box +5lbs Ground Beef: $110.00
Smoker Boxes:
small: ~$125.00
deluxe: ~$245.00